The
West Canada Creek
 By Matt Chapple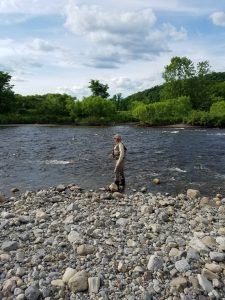 "When the water receded to 200 cfs around 5pm March 19th, I landed two beauties(one around 18″) in the trophy section using #6 black stoneflies fished at the head of a pool. Sunset was around 6:30pm." Matt Chapple"
The lower portion of the West Canada from Trenton Falls flowing south through a picturesque valley to the Mohawk River at Herkimer is one of Central New York's premier trout streams.
It offers everything a fly-fisher could dream. It has deep pools, long runs, classic riffle water, large brown trout, and good aquatic insect populations. There is also a year round fishery. The section from the dam at Trenton falls to the bridge at route 28 is open year round. This section is catch and release and only artificial lures may be used.
The West Canada has good populations of stoneflies. During the winter months, fishing stonefly nymphs sizes #6 to #12 will produce fish when fished slow and deep.   Hatches of caddis and mayflies start in the spring and continue throughout the summer and into the fall.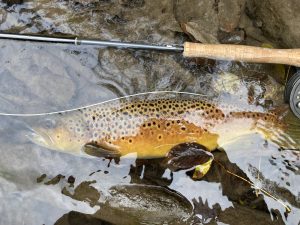 Hatches start with some Quill Gordons (Epeorus pleuralis) in April, but the hatches become heavier in May with the emergence of the Hendricksons (Ephemerella subvaria).  There are a variety of mayfly hatches and nice caddis hatches throughout the season well into the autumn, so be prepared with Elk Hair Caddis with green, tan, or gray bodies as well as Caddis emergers and pupa which are effective patterns at times when fish selectively feed on ascending caddis.
C
omparaduns and sparkle duns are good patterns for the slick long pools during mayfly hatches.  
S
ome other exciting hatches are the Golden Drakes (Potamanthus distinctus) in July, the White Fly (Ephoron leukon) in August and September, and Blue Winged Olives in the autumn.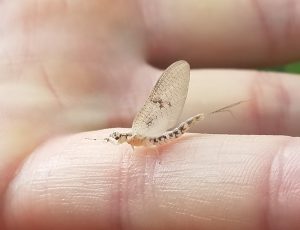 When fish are not surface feeding, nymphs and streamers will also take fish.  I have taken some my biggest fish fishing nymphs on the West Canada.  Prince Nymphs, Stonefly imitations, Woolly Buggers, and streamers with a touch of yellow or chartreuse can be effective.
Access to the West Canada Creek is very good. Route 28 follows along the creek for the entire stretch and provides numerous access points.  No need to stay just in the catch and release section as there are fish throughout the river.  The West Canada Creek is subject to releases from the dam.  A water level of 900 cubic feet per second is a nice fishable level, but levels from 500 to 600 are my personal favorite.
Angora Stonefly Nymph Recipe
Nymph Hook: 4-12
Thread: Black 6/0
Tail: Brown Goose Biots (split)
Abdomen: Black Angora Goat
Rib: Black Wire
Thorax: Black Angora Goat
Wing case: Turkey Tail Feather
Collar: Black Webby Hackle