Most of my winter fishing is focused on fishing for steelhead in the Salmon River and other Lake Erie and Lake Ontario tributaries.  My gear of choice for Salmon River steelhead consists of spey rods,  floating lines, sinking leaders, heavy tippet and bigger,  sometimes colorful flies.  As spring approaches, in addition to steelhead,  I start to think about lake-run rainbows throughout the Finger Lakes and early season brown trout fishing on inland trout streams.     The places I fish for rainbows and browns requires a different approach, as I move to swinging and dead-drifting smaller patterns much of the time, but may still swing a streamer. This  means I will  look over my gear and flies before the spring  season starts to take off and make sure I am ready.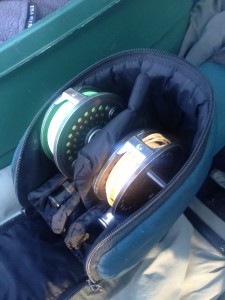 I will look over rods for damage, such as a loose guide or reel-seat.   I usually put together a few outfits and put them in a case for easy access.  Although I always bring extras in the car, a long hike to a stream to discover a broken rod would be a bummer.
I always look at lines for cracks.  Casting with cracks in the line will not only effect performance but it can also damage the guides.  The roughness of the cracks in the line can wear grooves in the metal of the guides.  Cleaning and treating  the lines is also a good idea, as it makes casting so much easier.
I like to take out the reels I am going to use and see if they are in good working order.  I may even clean and oil them if I don't remember doing any  recent maintenance on them.
I fish various sizes of streams in the spring and the water clarity will vary depending on snowmelt and rainfall.  I like to have a good supply of tippet material in various diameters.  I check to make sure I have everything from 4 pound test up to heavy stuff at 12 pound test.  You never know when you might encounter fish feeding on the surface in clear water, which requires a light tippet,  or a heavy rain may swell and discolor the water and heavy tippet is the order of the day.  Also something to think about is the age of the tippet.  Old tippet can become weak.  I always store extra tippet in a cool dry place and protect it from prolonged exposure to light.
I have favorite early season flies I use for certain waters,  so I will look through my fly boxes and do a visual inventory.  If I see one that is worn or scabby looking I may get rid of it or refurbish the hook and tie a new fly on it.  If I see some of my favorites are a little low in quantity I may go to the vice and tie a few.